Bad handwriting, an aversion to math, or disinclination towards physical activity: for the most part, the presence of such traits in children is viewed simply as the innate differences in each child's strengths, albeit with a corresponding effect on academic performance. There's an entire industry built on nurturing a young learner's interests and capabilities-math and reading clinics, art lessons, sports training, and the like.
While these extracurricular activities usually focus on a specific skill set, a new trend in enrichment emphasizes a brain-based learning model. It's popularly known as brain fitness, and here in the Philippines, such programs are offered by BrainFit Studio, a singapore-based brain fitness training center with branches across Southeast Asia.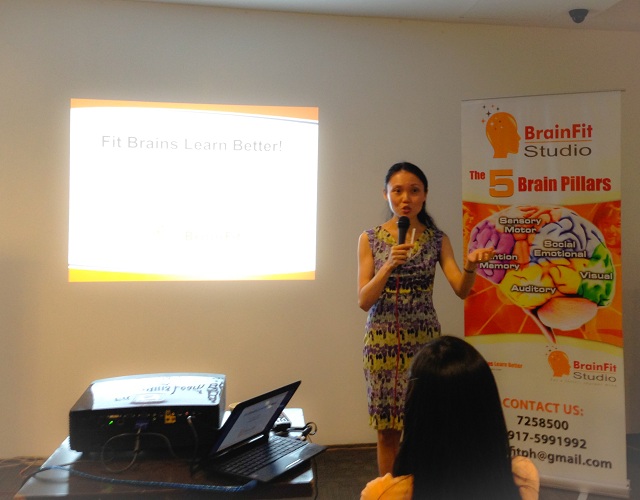 "Brain fitness is just like physical fitness," says pediatric physiotherapist and BrainFit founder Cheryl Chia, who was in town for the Manila launch of her book, "Fit Brains Learn Better". Chia explains that just as some discrepancies occur in each individual's physical abilities-for instance, having good stamina but poor flexibility-cognitive abilities also differ from person to person.
"Underperformance in learning is not a result of laziness or a bad attitude, but is [likely] due to gaps in brain fitness."
And just like a personal trainer or a cross-training regimen can improve physical fitness, specialied exercises can train the human brain to improve its performance.
Giving the brain a workout
The science behind this is pretty solid; studies in neuroplasticity and neurogenesis-the brain's lifelong capacity to reconnect and regenerate neurons, respectively-show that frequent targeted activities can improve cognitive abilities. Put simply, action begins with brain activity: neural connections are made in specific areas of the brain that send electric signals to the body parts or systems required to complete the action. The more frequently you do an action, the more neural pathways are made and maintained, thus making the action easier to do as time goes by.
Hence, the effectivity of a method like Kumon, which increases math preficiency through the rote solving of problem sets or worksheets. Which is all well and good, if one is only interested in improving a child's performance in a specific subject; what BrainFit programs aim to do is address the underlying causes of the child's learning difficulties by assessing and improving his brain fitness in five key systems: social-emotional, attention and memory, auditory and language processing, visual and spatial processing, and sensory-motor coordination.
Chia asserts that each of these five brain fitness systems contributes to learning. For instance, poor reading comprehension could possibly be due to lower fitness in the attention and visual systems, while mathematical comprehension, particularly in subjects like geometry, could be improved by working on spatial processing skills.
Assessing target areas
Like any physical fitness regimen, an assessment is made to determine which areas need more work. At the launch, BrainFit staff were on hand to demonstrate some of the activities used to determine brain fitness: a timed tangram test to measure visual and spatial acuity, and repetitive ball bouncing for sensory-motor coordination. Activities are designed like games, said Chia, to sustain the child's interest.
Better brain fitness also leads to more efficient use of our brain matter. Like running multiple apps on a tablet can bog down the system's speed, multi-tasking requires a lot of brain power and energy. But learning is, by nature, a multi-sensory experience, so expending too much time and energy on one thing-like legible handwriting, for those with slight motor difficulties-is detrimental to a child's learning process, even if all other faculties in working order.
To illustrate, Chia asked attendees to balance on one leg-first with eyes open, then with eyes closed-to show how vision affects motor coordination. Since a good number of attendees were quite able to balance with eyes closed, she added another level of difficulty: reciting the multiplication table of the number three, in reverse; which promptly caused everyone to wobble. While there are very few instances that require one to balance, eyes closed, while reciting a reverse multiplication table, this was a pretty effective demonstration of how multi-tasking can strain a person's brain fitness capacities.
Working with what you've got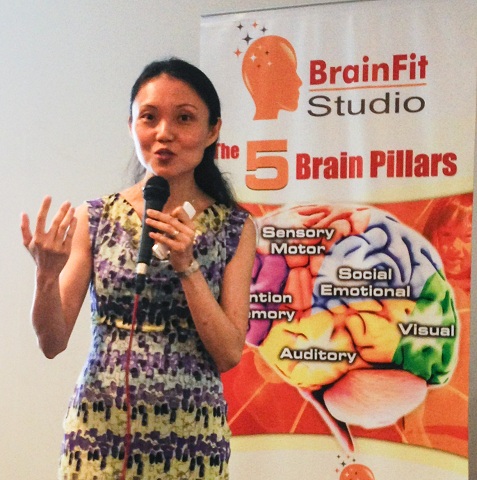 In her book, Chia shares some of the success stories from BrainFit's 12 years in practice: Singapore-based studies show as much as 41 percent improvement in subject perception for a control group of students who underwent BrainFit training, as opposed to the 26 percent improvement for the control group who did not.
Less data is available for the Philippines, since the Manila centers were only established in 2011. There are also caveats: brain fitness training won't turn students into geniuses, or cure developmental disorders. What it does is ensure that one's brain is primed for maximum performance.
This is why Chia recommends getting children assessed for brain fitness by age 6, when a complete developmental profile can be captured, and the time a child enters formal schooling. Parents who think their child may have a learning disorder are advised to consult with developmental pediatrician and appropriate therapists.
Be guided by pediatric milestones
Furthermore, as with physical fitness, proper nutrition is vital in achieving and maintaining brain fitness.
Launch partner Abbott's presence at the book launch reminded parents in the audience of this fact, but its consultant developmental and behavioral pediatrician Dr. Rita Paz Rowena de Guzman assuaged their concerns about their children's school-readiness with a checklist of ten milestones that determine a toddler's capacity to attend pre-school.
Her advice: each child develops at their own pace, so comparisons with other children are not proper indicators of developmental lag; instead, stick to the pediatric development milestones and consult your pediatrician if you observe significant delays so that proper interventions can be explored. Also, make sure that a child is raised in a nurturing, learning environment because their home life will augment or be a detriment to whatever learning children experience in an educational setting.
Brain fitness training, or at least the regimens designed by BrainFit, come at a price. Pre-session cognitive profiling costs P7,500, and with personalized training sessions and its contingent proprietary software and learning materials, one can surmise that parents will shell out tens of thousands for each program. But for parents who can and want to give their children the best of everything, brain fitness can be considered a necessary expense. - BM, GMA News
BrainFit Studio has centers in Greenhills and Binondo. "Fit Brains Learn Better" by Cheryl Chia is available in Fully Booked branches.
Source:
Gmanetwork